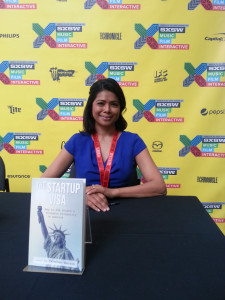 Tahmina is a passionate advocate for immigration reform but specificaly for high-skilled immigration and even more specifically for a new visa catergory for entrepreneurs and startup founders also known as the Startup Visa.  She felt compelled to write a book about why it is necessary for the U.S. to create such a visa category.  The book is titled The Startup Visa: Key to Job Growth & Economic Prosperity published in 2015.
The book was launched at the prestigious tech conference SXSW in Austin, Texas in March 2015. The book can be purchased at all major book retailers including Amazon and Barnes & Noble
The second edition was released in July 2021 and covers the new program International Entrepreneur Parole.
Tahmina speaks on this topic frequently. You are welcome to contact us for for speaking engagements. Contact us here.