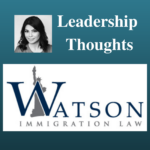 What a time in history! The new administration has hit the ground running, and everything is a priority. And within those priorities, none is more important than dealing with the Covid19 pandemic.
However, the administration must deal with and has already taken some action on immigration. As promised, President Biden has reversed several previous immigration orders, including the infamous Muslim ban. Today, Friday 1/29/21 was supposed to be the immigration day of initial actions, but due to the complexities, the administration will now make announcements next week instead.
There are so many things the administration needs to do on immigration. Honestly, every single action item is essential and needs to be prioritized. For weeks, many thought leaders have written about what administration actions must be taken. I have not put my list in writing yet until now.
And, my initial request consists of simply two items only. These two are quick to achieve (with only a policy memo) and will have an immediate and incredible impact:
1.Eliminate biometrics requirements:
Before the Trump administration, certain immigration applications did not require fingerprinting, such as extensions of status as tourists or dependent spouses of work visa holders. In the name of 'extreme vetting' The Trump administration instituted fingerprinting requirements for all applications and instantly created a backlog.
That backlog was exacerbated by two other problems. Firstly, an immediate halt of international travel in March 2020 resulted in a greater number of people either changing or extending their statuses using Form I-539.
And secondly, USCIS offices had to shut down like the rest of America, and thus fingerprinting or biometrics appointments could not be conducted. As a result, an already long backlog immediately became unprecedentedly long. To date, many people are still waiting for either biometrics or their cases to process.
An additional problem emerged due to the above fingerprinting requirements. Spouses of work visa holders can no longer fast track their cases. As a result, their work permits are also delayed. This seemingly small policy update has created insurmountable problems.
The above situation can be somewhat repaired by immediately reversing the fingerprint requirement and returning to pre-Trump policies.
2.Eliminate in-person interview requirements for certain applications:
Under the guise of 'extreme vetting' and national security, the Trump administration also added a policy to interview all green card applicants. In the past, employment-based green card applicants, or those removing conditions in marriage-based green card renewal, would not be required to attend an in-person interview because the extensive background checks by FBI, Interpol and more are sufficient. The Trump administration's policy to interview EVERYONE instantly created a backlog to the pool of people who need in-person interviews. And similar to the biometrics situation explained above, in-person interviews have been suspended. As such, an already terrible backlog is now infinitely worse.
Pre-Trump, such cases would take 6-9 months. During the Trump administration, processing times crept up to almost two years. And during the pandemic, that timeline is uncertain.
Though some interviews have resumed, the backlog of people waiting for interviews includes family-based applicants, naturalization applicants, asylum applicants, and basically, everyone else. By eliminating employment-based and I-751 groups of applicants, the waiting line will reduce drastically and immediately.
Therefore, in sum, eliminating biometrics and interview requirements in some instances will be worthy changes with minimal effort and time.
**Copyright 2021 by Watson Immigration Law. All rights reserved. This material may not be published, broadcast, rewritten or redistributed.