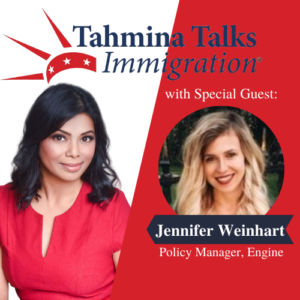 We are excited to release the next interview of the "Startup Visa Series" on our popular podcast, Tahmina Talks Immigration. This interview series compliments the launch of the 2nd Edition of The Startup Visa book – now available for purchase here! .
We hope you enjoy listening to experts on startups, entrepreneurship, immigration, and policy from around this world as we advocate for the need for a startup visa in the United States.
Today's episode features Jennifer Weinhart, Policy Manager at Engine. Engine supports the growth of technology entrepreneurship through economic research, policy analysis, and advocacy on local and national issues. It is the voice of startups in government. Hope you enjoy listening as much as I enjoyed interviewing her!
Get your copy of the 2nd edition The Startup Visa book, available on Amazon and various other book outlets.
This series is sponsored by Joorney Business Plans and Park Evaluations and produced by Cambria Judd Babbitt.
This podcast is not official legal or policy advice on behalf of Watson Immigration Law or Engine.