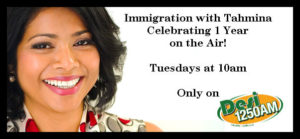 I am so excited to announce my guest for Tuesday October 18 at 10am PST! Following my interview last week about the opening of the 11th Seattle South Asian Film Festival (SSAFF), Bangladeshi movie director Tauquir Ahmed will be on my show, whose film "The Unnamed" is nominated for an Oscar! "The Unnamed" is a profound film that tells the story of family, love and the desire for a better life elsewhere which leads to immigration being  an underlying issue.
The Unnamed will be screened on 10/18 at 7pm as part of Tasveer's SSAFF line up. I hope you will attend to watch the movie. I am also thrilled to announce that I will be moderating the movie!
Tauquir Ahmed, born in 1966, is an architect and actor, turned director in cinema. He has made four feature films. His present occupation is film making, screen writing and acting.
Tauquir Ahmed studied in Jhenidah Cadet College (JCC) for his SSC and HSC exam. He studied architecture in Bangladesh University of Engineering and Technology (BUET). He completed film diploma from New York Film Academy, 2002. He had training in Theatre Direction from Royal Court Theatre, London (British Council Scholarship, 1995) and attended the theater of nation in Seoul South Korea 1984. In his university life he spent most of his evenings in theaters. From 1985 to 2004 he was an active theater worker in Dhaka. He has directed three stage plays Hoybadan(1995), Icchamrittu(2002) in New York and Protishoron(2003). He worked as
a set designer actively in the 90s.
At the same time Tauquir Ahmed started his career as a lead-actor in television in independent movies. He made his first feature film Joyjatra in 2004. Rupkothar Golpo in 2006. Daruchini Dwip in 2007. With a long interval he made his 4th feature film Oggatonama (THE UNNAMED). In his professional career he shifted from architect to freelance actor to business and to film making.
Tauquir Ahmed married Bipasha Hayat, another fellow actor and painter, on 23 July 1999. Together they have one son – Aareeb and one daughter – Arisha. His many awards include Bangladesh National Film Awards, Dhaka International Film Award and Jury Award at Bali Film Festival.
Be sure to tune into this exciting episode at 10 am on October 18th on Desi 1250 AM.  You can tune into your radio in the greater Seattle area at 1250 AM or listen online at http://www.desi1250am.com/.  You can download the Desi 1250am app from the app store. If you have questions, you are welcome to email me in advance at info@watsonimmigrationlaw.com.
Here is a trailer of the movie: