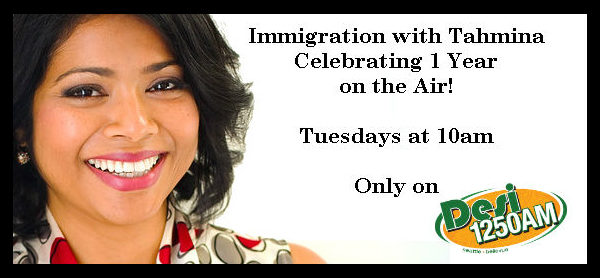 I am incredibly honored and thrilled to announce that Cuc Vu, Director of City of Seattle's Office of Immigrant and Refugee Affairs  (OIRA) will appear on my radio show "Immigration with Tahmina" on Desi 1250am on Tuesday January 17th 2016 at 10am PST!
The OIRA will be hosting an unprecedented event on inauguration day on January 20th 2017 at McCaw Hall, Seattle Center. Under her leadership, Seattle will be paving the way nationally with this event that boasts 1100 volunteers that will serve the entire community with free legal services including immigration consultations, citizenship applications, know your rights training and so much more! Tune in to learn directly from Cuc about why this event is important in our community and in our nation!
Cuc Vu came to the United States with her family in 1975 as a Vietnam War refugee. As
Director, Cuc is tasked to ensure OIRA follows through with its stated mission of improving the lives of Seattle's immigrant and refugee residents and that Seattle continues to be a leading City for immigrant integration. Cuc has over 12 years of experience working on immigrant and refugee issues as an advocate, organizer, and nonprofit founder and executive. As Immigration Campaign Manager for SEIU (Service Employees International Union), Cuc helped the organization earn its reputation as the most effective union on comprehensive immigration reform. Cuc also co-founded Mi Familia Vota and Mi Familia Vota Education Fund, both national organizations dedicated to improving Latino immigrant civic engagement.
Cuc most recently served as the first Chief Diversity Officer for the Human Rights Campaign, where she helped the organization fulfill its stated commitment to diversity and inclusion by providing transformative leadership training and by creating new engagement programs. Cuc has also worked at the AFL-CIO and the U.S. Department of Labor to advance working women's issues. She has served on several boards, including the National Immigration Forum, the National Gay and Lesbian Task Force, and the Conference on Asian Pacific American Leadership. As a soccer fanatic, she has played competitive soccer since she was 8 years old.
This is an unmissable interview for our Desi 1250am listeners. Learning about your rights, protecting yourself, security your immigration status- all are going to be important in the coming days, months and years with the new administration. Learn about all of these for free!
We will broadcast Live on Facebook from our new Immigration with Tahmina Radio Show page! Tune in at 10am PST on Tuesday 17th on your radio at 1250 am or livestream at www.desi1250am.com.  Download the app from the appstore. The show will be repeated on air at 8pm PST again on Friday 13th January. If you are outside the US, the Facebook page, online streaming and the Desi 1250am Apps are the best way to tune in.
Thank you to Cuc Vu for taking time out of her incredibly busy schedule. On behalf of myself, the listeners and Desi 1250am, we are honored and grateful!