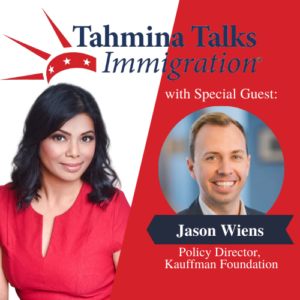 We are excited to release the next interview of the "Startup Visa Series" on our popular podcast, Tahmina Talks Immigration. This interview series compliments the launch of the 2nd Edition of The Startup Visa book – now available for purchase here! .
We hope you enjoy listening to experts on startups, entrepreneurship, immigration, and policy from around this world as we advocate for the need for a startup visa in the United States.
Today's episode features Jason Wiens, Policy Director at the Kauffman Foundation. He oversees a national grant portfolio of advocacy projects that educate policymakers about how government can support entrepreneurship and directs the Kauffman-led Start Us Up coalition. His views on entrepreneurship policy have been published in The Wall Street Journal, Roll Call, The Hill, Washington Monthly, and VentureBeat. Before joining the Kauffman Foundation, Wiens spent 10 years on Capitol Hill, where he led bipartisan efforts on entrepreneurship, immigration, and economic mobility in the U.S. House of Representatives and U.S. Senate. Hope you enjoy listening to this interview as much as I enjoyed interviewing him!
Get your copy of the 2nd edition The Startup Visa book, available on Amazon and various other book outlets.
This series is sponsored by Joorney Business Plans and Park Evaluations and produced by Cambria Judd Babbitt.