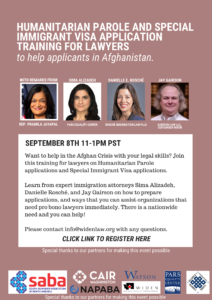 Calling all lawyers! Want to help in the Afghan Crisis with your legal skills? Join this training for lawyers on Humanitarian Parole applications and Special Immigrant Visa applications on September 8th 11am-1pm PST. REGISTRATION LINK HERE
Learn from expert immigration attorneys Sima Alizadeh, Danielle Rosché, and Jay Gairson on how to prepare applications, and ways that you can assist organizations that need pro bono lawyers immediately. Congresswoman Pramila Jayapal will also share some remarks. There is a nationwide need and you can help!
Please contact [email protected] with any questions
Special thanks to our partners: SABA North America, CAIR-WA, NAPABA, Pars Equality Center, WIDEN, Alliance for International Women's Rights, and more to come!