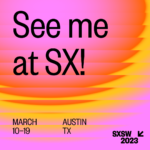 Immigration for startups have a been a key passion for both Doug Rand, Senior Advisor to the USCIS Director and co-founder of Boundless. He's the force behind the International Entrepreneur Parole, and many other startup friendly US immigration policies both from the Obama administration and now the Biden administration.
Tahmina Watson, Founder of Watson Immigration Law, Business Insider's top immigration attorney in America for tech startups and bestselling author of the Startup Visa- had made it her life mission to help startup immigration matters.
Both will appear at SXSW!! I will be an exciting session at one that should not be missed if you are attending SXSW! Please share this with anyone you know that is going to SXSW to ensure they do not miss it either. We'll be sharing latest information for startups on US immigration!
Join us and connect with us on the SXSW app! Connect on LinkedIn or Twitter in advance too!
It is an absolute honor and privilege. Thanks SXSW!